St. George Gin Class & Cocktail Takeover - April 6th
April 06, 2020 07:00 PM until April 06, 2020 09:00 PM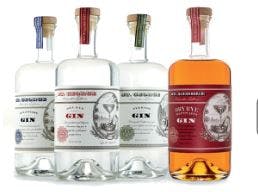 Join us for a truly special event - a tasting of four St. George Gins, three signature cocktails and appetizers for $30. Featured gins include:
Botanivor: Comprised of 19 different botanicals working in concert, this gin is a meadow in bloom - herbaceous, fresh and elegant.
Terroir Gin: Forest-driven and earthy, this profoundly aromatic gin pays homage to the Golden State.
Dry Rye Gin: With a 100% pot-distilled rye base, this is a whiskey-lovers gin and a gin im-purists walk on the rye side. It has structure, spice and impossibly rich mouthfeel.
Dry Rye Reposado Gin: A barrel-aged expression of the Dry Rye Gin, this spirit rests in French and American oak wine casks and has a lovely copper-pink hue and a deep, rich flavor that St. George calls an "offering to the gods of gin, whiskey and wine."
Tickets available on Eventbrite: https://www.eventbrite.com/e/st-george-gin-cocktail-takeover-tickets-98891985591
https://www.eventbrite.com/e/st-george-gin-cocktail-takeover-tickets-98891985591